I am genuinely embarrassed to share, I stayed away from Soto's Kitchen for the longest time, due to my ignorance of this  Venezuelan food. Each time I get in the car and go, I'd look at the menu again and bail out. Well, good fortune finally found me when a friend of mine invited me to a tasting at said restaurant. I knew immediately there would be a variety of dishes to sample, and I would not be responsible for anything but just sitting back to enjoy.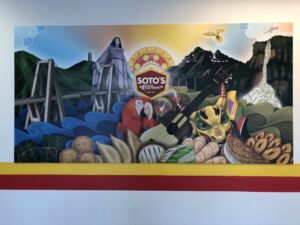 The interior is clean and colorful, with artwork and banners from the region. Clean tables and comfortable chairs are an added treat in this fast-casual restaurant. Our host for the evening owner Aristides Soto, and the chef, Lorelen greeted us when we arrived, after a brief overview of what was in store for us, the Pavlov effect kicked in.
We began the meal with Shredded Beef Tostones, a sandwich of shredded beef with fried plantain slices for the "bread" and Pernil (pulled pork) Arepa, a corn patty split open and stuffed with meat. I fell in love with the fried plantain slices used as bread for the Tostone. The corn patty used to hold the Arepa was equally as tasty but texturally softer.

We moved on with Chicken Cabimera, a uniquely Venezuelan dish similar in concept to loaded fries. Arepas are cut into pieces and fried, and topped with meats, cheeses, lettuce, boiled egg, sauces. I found this dish quite pleasing as I enjoyed the crispness of the fried Arepas.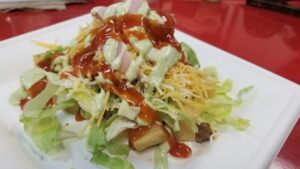 By now I am moving into an almost full but keep it coming mindset, just then the Empanadas arrived.  The only item on the menu I was familiar with and one of my guilty pleasures. Crispy and well-stuffed one beef, one pork with a refreshing dipping sauce.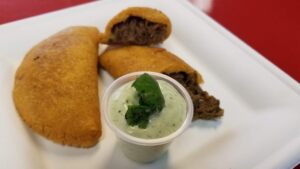 My favorite dish of the night, Cheese Cachapa, a slightly sweet, corn pancake-like dish, stuffed with mild white cheese. Crispy outside with warm cheese inside, the perfect comfort food.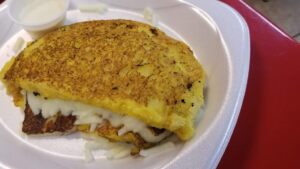 It was a struggle to manage the last course, but this woman is no quitter, especially when Nutella is in the mix. This Nutearepa, a dessert arepa stuffed with Nutella took the simple arepa to a majestic height.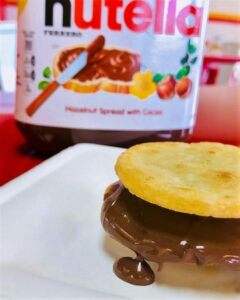 So lesson learned, don't be afraid to get out there and eat — so much food so little time.